The International Conference on Laser, Plasma and Radiation - Science and Technology (ICLPR-ST)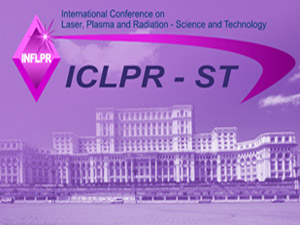 On behalf of the National Institute for Laser, Plasma and Radiation Physics (INFLPR), we are pleased to invite you to attend The International Conference on Laser, Plasma and Radiation - Science and Technology (ICLPR-ST), which will be held between June 7-10, 2022 at the Palace of Parliament, Bucharest, Romania.
ICPLR-ST is organised by INFLPR with Magurele Science Park participation. Our aim is to bring together researchers from the fields of lasers, plasma, and radiation from Romania and abroad providing a unique environment for sharing and promoting the latest scientific and technological developments.
The International Conference on Laser, Plasma, and Radiation - Science and Technology (ICPLR-ST) includes a broad variety of topics:
Fundamentals, diagnostics and modelling in laser, plasma and radiation physics
Advances in optics, laser and photonics
Interaction of radiation with matter under extreme conditions
New trends in thin films and nanomaterials synthesis and processing
Modern applications in environment, life sciences and energy
Innovative technologies for sustainable future.

SCIENTIFIC COMMITTEE
Chairs: Valentin Crăciun, Maria Dinescu, Ion N. Mihăilescu, Bogdana Mitu
Traian Dascălu – Romania
Adrian Dinescu – Romania
Gheorghe Dinescu – Romania
Ionut Enculescu – Romania
Eric Fogarassy – France
Mircea Guina – Finland
Dunpin Hong – France
Felicia Iacomi – Romania
Ion Lucian – Romania
Ioan Cezar Marcu – Romania
Catalin Martin – USA
Mihail Pascu – Romania
Nicolaie Pavel – Romania
Andrei Popescu - Romania
Gabriel Popescu – USA
Razvan Stoian – France
Koji Sugioka - Japan
Ion Tiseanu – Romania
Calin Ur – Romania
Marian Zamfirescu – Romania

EXECUTIVE COMMITTEE
Nicolae-Cristian Mihailescu– Romania
Felix Sima – Romania
Gabriel Socol – Romania

ORGANIZING COMMITTEE
Cristina Achim
Ana Bratu
Gabriela Dorcioman
Ciprian Dumitrache
Mihaela Filipescu
Lucian Gheorghe
Eduard Grigore
Aurelian Marcu
Natalia Mihailescu
Monica Măgureanu
Bogdana Mitu
Carmen Ristoscu
Nicu Scarisoreanu
Angela Staicu
Dorina Ticos

KEY DATES:
14 April, 2022: Abstract submission deadline
21 April, 2022: Notification of abstract acceptance
20 April, 2022: Registration open
15 May 2022: Early bird fee payment deadline
Updates will be regularly posted on the conference web site: http://iclpr-st.inflpr.ro/.